Our team is here for you when you need us most!
Dr. Stan Kunin
Veterinarian
Dr. Stan Kunin was raised on a 44-acre chicken ranch in north San Diego. Spending his youth with his knowledgeable grandfather, he learned about chickens and the menagerie of other animals residing there, including horses, dogs, cats, a goat, and a pig. It was there that he fell in love with the idea of becoming a veterinarian. Dr. Kunin graduated from U.C. Davis School of Veterinary Medicine in 1978, after which he completed an internship program in West Los Angeles. During his internship, he worked emergency shifts while concurrently learning from specialists who trained him in internal medicine, surgery, ophthalmology, dermatology, and exotic animals. He is married with three grown children and one grandchild. When not working, he enjoys performing magic (once a member of The Magic Castle), playing and discussing baseball, and traveling with his family.
Dr. Nina Nardi
Veterinarian
A Southern California native, Dr. Nina Nardi was born and raised in the San Fernando Valley. She grew up in a house of dogs, cats, turtles, and hamsters. She knew from an early age she wanted to be a veterinarian. Dr. Nardi completed her undergraduate degree with a BS in Biology from Pepperdine University. From Pepperdine, she went on to Veterinary School and graduated with the first graduating class at Western University in Pomona, California, in 2007. She has worked at several different hospitals, and she is very happy to be back at Veterinary Medical Center. She was a regular on the CBS television series, 'Lucky Dog,' and occasionally does radio and social media events. She is very dedicated to her patients and enjoys a wide range of medical disciplines. In her spare time, she loves spending time with family, friends, and her pets.
Dr. Alexandra Barker
Veterinarian
Dr. Alexandra Barker is a San Fernando Valley native that dreamed of becoming a veterinarian from a young age. Growing up, she frequently escaped the city to enjoy nature and wildlife. During those trips, she discovered her love and respect for animals.
Dr. Barker initially pursued human medicine during her undergraduate studies because she found joy in helping people; however, her love for veterinary medicine was reignited when she rescued her best friend, Hero. She then began volunteering at a marine and wildlife rehabilitation center, a veterinary hospital, and a farm animal rescue. It was then that she decided to blend her two passions: helping people and animals. Dr. Barker earned her veterinary degree from Washington State University College of Veterinary Medicine.
When she isn't taking care of her patients, Dr. Barker enjoys cooking or can be found in the outdoors kayaking, hiking, and camping.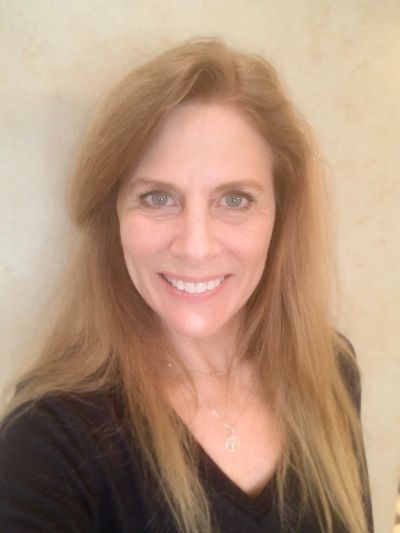 Diana Menken
Hospital Administrator
Diana was born and raised in Southern California, where she was drawn to the wildlife that surrounded her, learning about various creatures, including reptiles, birds, and mammals. After college, she accepted a banking position where she became the assistant manager of her branch. Wanting to travel extensively, she obtained her travel agent's license, left California, and navigated to foreign destinations allowing her to explore different cultures, customs, and their surrounding indigenous creatures. Upon returning to Southern California, she married and became a full-time parent volunteer for each of her 3 children's schools until she decided to use what she had learned from her history and began working at Veterinary Medical Center. Diana has 3 dogs, 2 cats, and a bird. She still enjoys traveling but mostly loves spending time with her husband, children, and grandchild.
April Wells, R.V.T.
Registered Veterinary Technician
April is a licensed Registered Veterinary Technician with a degree in Animal Health Technology from Pierce College. A dedicated professional, April has advanced training and experience in dentistry, nutrition and canine massage therapy. April wanted to work with animals her entire life; she has been on staff at Veterinary Medical Center since 1979. She enjoys the beach, nature photography, baking, arts and crafts, and being "mom" to her Shelties.
Jennifer Scheuch
Lead Technician Assistant
Jennifer joined Veterinary Medical Center in 1997. She grew up in Granada Hills, California. Her journey for her love for animals started at an early age by caring for dogs and cats around her neighborhood. Prior to joining the VMC team, she worked at a pet store while attending high school and shortly after, worked as a groomer for 9 years. She loves constantly learning new things and has a passion for helping all kinds of animals. She also continues to have a successful pet sitting business which she has had for 30 years. Jennifer has 3 dogs named Darla, Ranger and Lulu, and 1 cat named Ivy. Her animals are her children. In her spare-time she loves to watch movies and read biographies and horror novels.
Brittany Heller
Technician Assistant
Brittany was born and raised in the San Fernando Valley, she has always had a love for animals, invariably trying to find ways to help them in their time of need, even going back to when she was little and bringing stray animals home. She has been in the veterinary field for 15 years and can't imagine doing anything else. She currently has a dog named Sally, two cats named Mary and Asylum, and three geckos. In her free time she loves to go hiking, camping, traveling, and exploring national parks with her husband and two daughters, who are the light of her life.
Quetzalli Herrera-Saldivar
Technician Assistant
Quetzalli was born and raised in the San Fernando Valley. She grew up with her cat, Maxie, and has always dreamed of working with elephants. Quetzalli graduated from UC Davis with a B.S. in Animal Biology and an Education Minor. She has always been drawn to animals, and it has been her dream to become a veterinarian. She hopes to work with creatures big and small and to one day teach all she's learned. She enjoys dancing, watching movies, and spending time with her family.
Dior Giani
Veterinary Assistant
Dior was born and raised in the San Fernando Valley. She first joined the Veterinary field in
2021 and is currently studying to achieve her license as a Registered Veterinary Technician. Her love for animals began when she learned to walk and would go pet horses at the stables. She grew up having dogs, cats, rabbits, guinea pigs, and fish. She is happiest when she's helping animals and can't imagine her life any differently. At 9 years old, Dior became a member of California Rangers a youth equestrian organization modeled after the equestrian Cavalry of the 1800s. She was a dedicated member of the California Rangers for 10 years. She developed skills in horsemanship, performing high-speed drill maneuvers, leadership, discipline, and responsibility. She is passionate in her advocacy of animals and treats them as if they are her own. In her free time, she enjoys taking her pitbull Duke on long walks, listening to music, going to the beach, exercising, shopping, and spending time with her friends and family. Dior is grateful to be able to call herself a part of the VMC family.
Alex Hacker
Lead Receptionist
Alex grew up in West Hills and has been with VMC since 2015. Having always loved dogs, she couldn't wait until she could finally adopt one as a teenager and that's where her adventure into having a fur family began. She has three small dogs, two Chihuahuas and a Cairn Terrier. Though her job mainly consists of office work, her goal is to provide the best service possible both to owners and their pets.
Alejandro Nuñez
Technician Assistant
Alejandro Nuñez was raised in Van Nuys. Since he was small he has always loved animals, especially dogs. He likes to play around with animals but also sees the importance for, and has the desire to educate clients, to ensure the animals stay healthy. In his free time he likes to play soccer, travel, and go to the park with his pet dog, Mambo.
Jessica Levine
Receptionist
Jessica is a Veterinary Receptionist and loves working in the field. Raised in the San Fernando Valley, she grew up with dogs all throughout her life. Jessica graduated from Cal State University Northridge with a Bachelors in Sociology with an emphasis in Criminology. Jessica also works at a juvenile placement facility for boys on probation. In her spare time, she enjoys cooking, working out, taking her dog, Saint, on long walks and spending quality time with her family & friends.
Providing personalized and compassionate care for pets and their families.
Hours
Monday-Friday: 8:00am – 6:00pm
Saturday: 8:00am – 1:00pm
Sunday: Closed
Ready to come see us?
Our team is here to help! Click the button below to request an appointment online!